Remembrance Sunday 8th November 2015
Burghfield & District Branch of The Royal British Legion
Pictures by kind permission of K.M Butler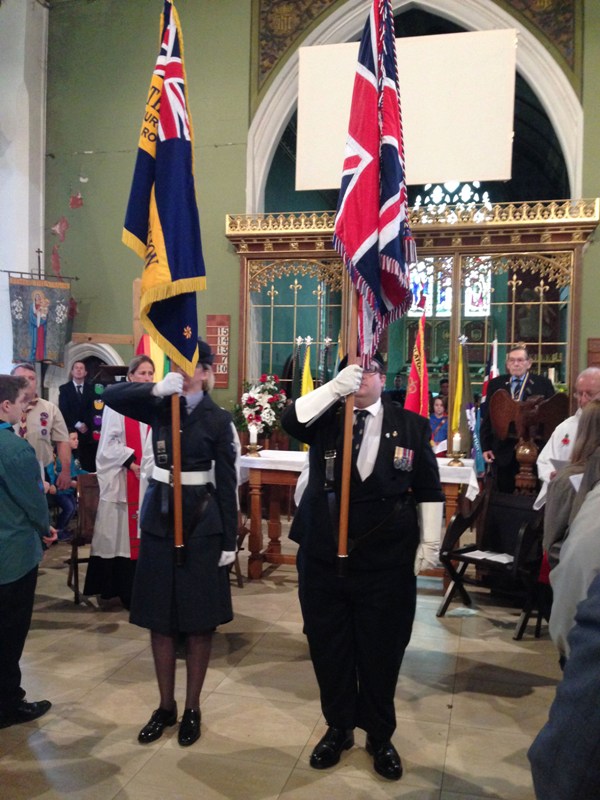 Over 700 people attended the Burghfield & District British Legion Parade on a windy, overcast Remembrance Sunday this year to Burghfield St Mary's Church.
The Royal British Legion, regular Army and Royal Air Force were represented, along with the Rt Hon John Redwood, MP, the Army and RAF Cadets, Explorers, Scouts, Guides, Brownies, Cubs and Beavers and a Chinook helicopter for RAF Odiham flew low over the churchyard as the wreaths were laid.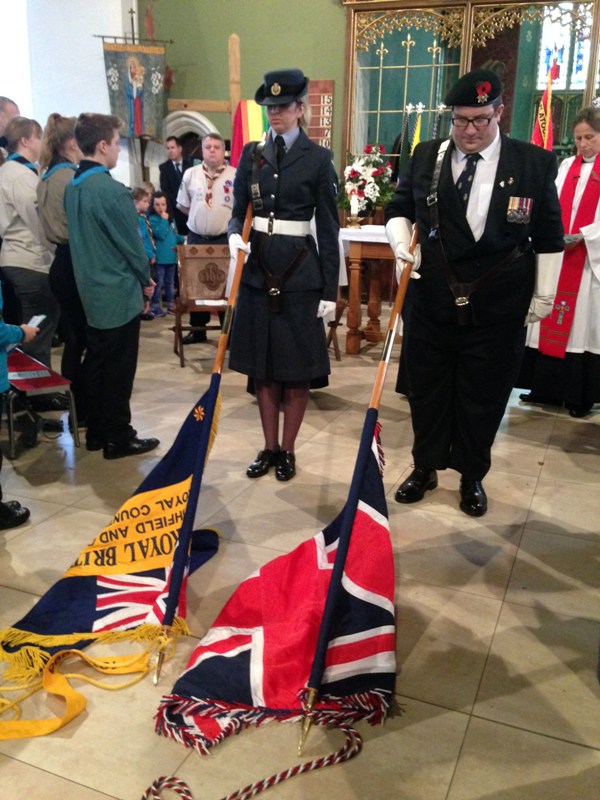 Rt Hon John Redwood said "We mourn the loss of so many lives. War is what happens when politics fail and diplomacy breaks down. In the future we must learn from the tragic ways so many conflicts between nations, peoples and religions have become bitter wars."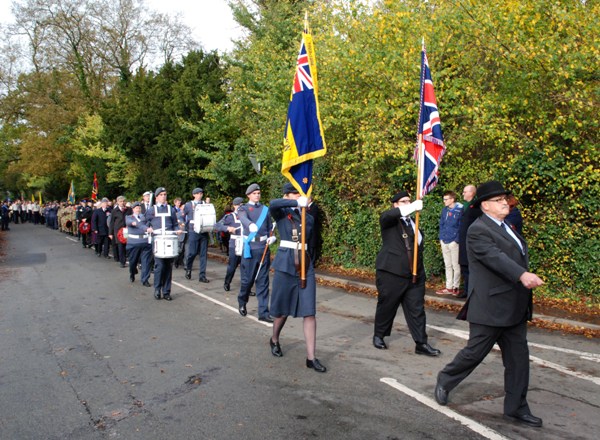 Major John Steeds, President of the Burghfield & District Branch of the Royal British Legion said "This is the largest Parade that I can remember, with so many children attending. It seems to get larger and gain importance each year. It was a wonderful service and it so important that the young people understand and take pride in Remembrance Sunday."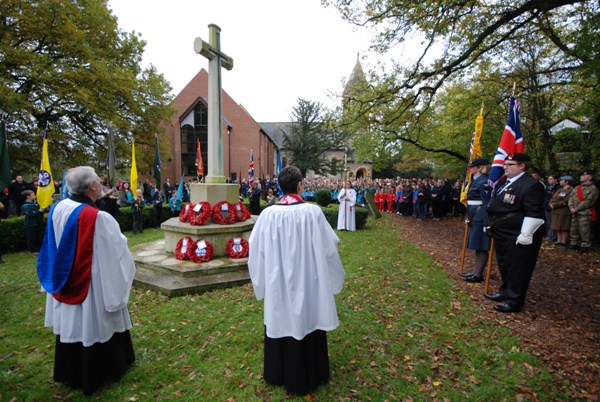 Local hero, BA Captain Chris Henkey, who recently saved his passengers from a burning plane, commented " It was a packed service in a beautiful church and we should all remember there are still many service personnel fighting for us in far away countries."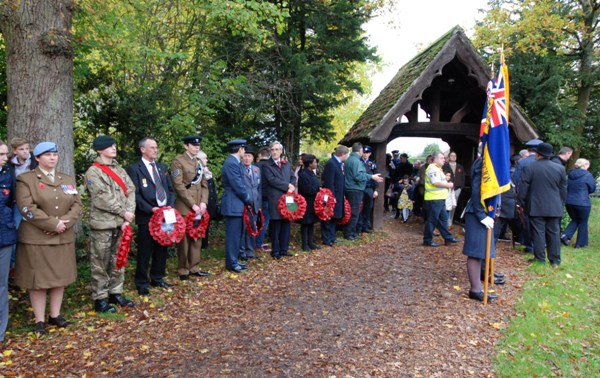 During the special Commemoration Service the 37 names of Burghfield villagers, who sacrificed their lives in World War I, were read out by members of Willink School, the Air Cadet Force, the Air Training Corp, the Scouts, Girl Guides and members of the Royal British Legion. The Reverend Dr Anthony Peabody, who is the Chaplain to the Burghfield and District British Legion, commented "It is always a moving occasion, to remember those who gave their lives in service of their country so that we might have the lives we have now "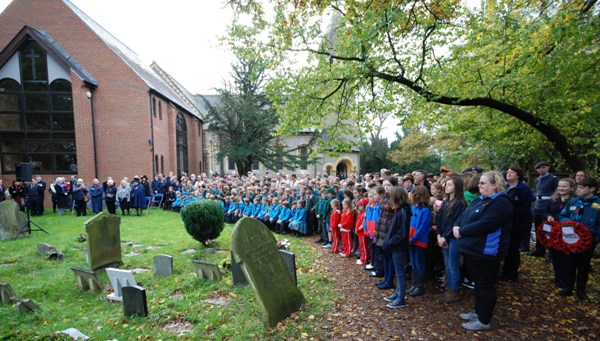 The service was taken by the Reverend Gill Lovell and the Reverend Dr Anthony Peabody, and the parade was organised by Lt. Col. Bruce Neeves , Parade Commander, of the Burghfield & District Branch of the Royal British Legion, who observed that he hoped the parade would be a successful and memorable one, in memory of all those men and boys who gave their lives one hundred years ago, as 1915 was the year of the greatest loss of service men from this area.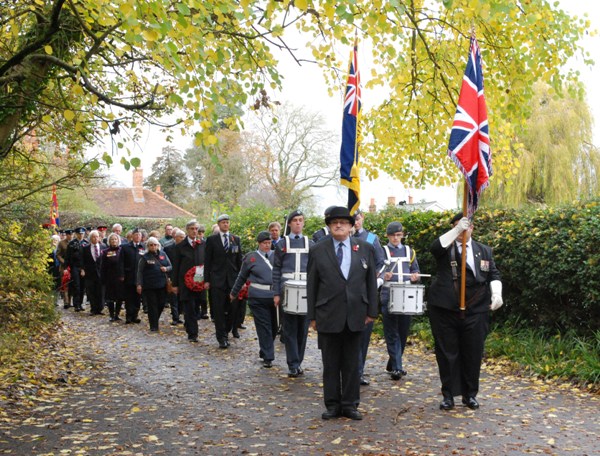 Pictures by kind permission of K.M Butler
---
Articles in the Local Press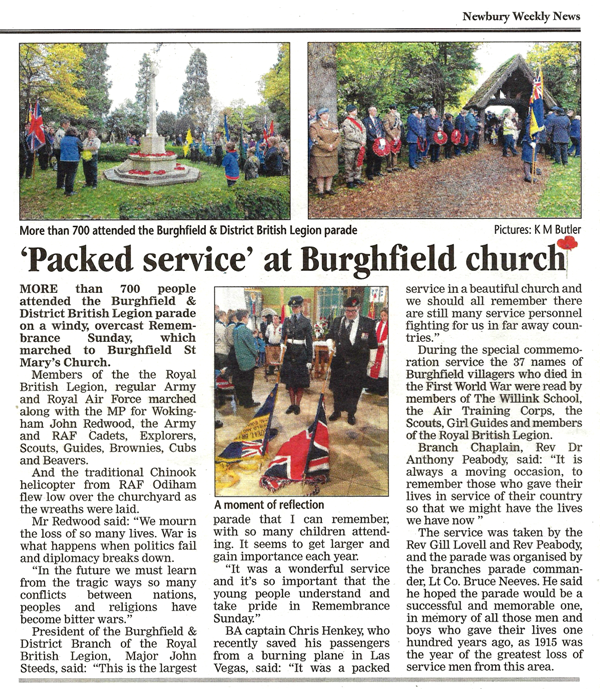 ---